Betty Eileen Bonzo
Betty Eileen Bonzo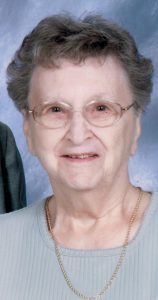 Betty Eileen Bonzo, 90, of New Sewickley Twp., passed away on July 22, 2018. She was born in Kittanning, PA., on February 26, 1928, a daughter of the late Francis and Vera (Waugaman) McCullough.
She was also preceded in death by her husband, Laurin Bonzo (2012) and her siblings, Doris Steinacker and Sandra McCullough.
Betty was a homemaker and gave great care to her family. She also was a talented seamstress, loved to read and do crafts.
She is survived by her daughters, Jane (Glenn) Schaub, Nancy (Daniel) Corsi, Peggy Barger, Sally (Tim) Roush, and Amy (Dale) Foeks; her 8 grandchildren, Jessica (Kevin) Castelli, Jeremy (Michele) Foeks, Stephanie (Brian) Stewart, Benjamin (Darci Fogle) Foeks, Andy Roush, Douglas (Brittany) Foeks, Emily (Ben) Boyd, Kelly (Jacob) Shevitz.
She is also survived by her 11 great grandchildren, Baylee and Dean Stewart, Matt and Joe Castelli, Eli, Aubrey, and Logan Boyd, Jacob and Callie Foeks, Owen Foeks, Marlowe Shevitz; and her siblings, James (Carrie) McCullough, and Barbara Caldwell.
Family and friends will be received on Thursday from 2-4 and 6-8 PM at the Huntsman Funeral Home and Cremation Services,Inc. of Rochester (502 Adams St.) and Friday from 10am until time of services at 11am at the St. John Burry's  Church, 1835 PA-68, Rochester, PA 15074. Interment will follow in the church cemetery.
The family would like to express gratitude to the Liberty Dialysis clinic for their care over the last 5 years, and also to the staff of the Good Samaritan Hospice, Heritage Valley Beaver.