Charles E. Helble Jr.
Charles E. Helble Jr.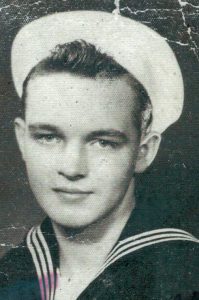 Mr. Charles E. Helble Jr., 91, of Baden died peacefully on May 18, 2018 surrounded by his family.  Born April 7, 1927 in Cleveland, Ohio, he lived an active life fishing and hunting well into his later years. He served his country as an electrician mate during World War II in the U.S. Navy on USS Pocomoke from 1944 – 1945 which earned him the Victory Medal, American Theater Ribbon, and Pacific Theater Ribbon. After his discharge from the Navy, he spent 33 years working for J.L. Steel in the electrical repair shop.  Early retirement was spent sighting in his crossbow and fishing in Brady's Run Park.  Everyone was especially fond of his stories, jokes, silliness, and card playing ability.
He was proceeded in death by his mother, Ann Westberg Helble, and father, Charles E. Helble Sr.  Surviving are his loving wife Cecelia Helble, sons David Helble and Thomas Helble (Cathy Cain), and daughters Lisa Disanzo, Eve Lemire (Chuck Belczyk), and Linda Helble.  Eight grandchildren who cared for him greatly – Adelle Helble, Kayla Helble, Jeremiah Disanzo, Jordyn Disanzo, Emily Lemire, Michael Lemire, Zachary Helble, and Alana Helble, and one great grandson, Blake.    He is also survived by his brother Jan Helble.
Friends and family will be received on Thursday from 4pm until the time of funeral service at 6:30PM in Huntsman Funeral Home and Cremation Services of Rochester.
Interment will be in Woodlawn Cemetery, Aliquippa. The members of the Beaver County Special Unit are asked to meet at the cemetery on Friday at 10AM.