Sandra "Sandy" Kennedy
Sandra "Sandy" Kennedy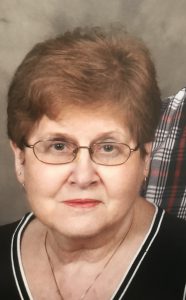 Sandra A. "Sandy" Kennedy, 73 of New Sewickley Twp., passed away on Monday April 30, 2018 in UPMC Presbyterian Hospital.  She was born on January 6, 1945 in Freedom, the daughter of the late Walter and Elizabeth Dillon.  She was a wonderful wife, mother, grandmother, and great grandmother.  She loved to quilt and sew. She was a member of the Fraternal Order of the Eagles in Freedom and Our Lady of Peace Catholic Church in Conway.
In addition to her parents, she was preceded in death by a granddaughter Jackie Kennedy, 5 brothers: Walter, Alfred, Clarence, Edward, and Richard Dillon and 3 sisters: Irene Campbell, Carol Waddell, and Dorothy Wiltrout.
She is survived by her husband of 56 years, Richard "Butch" Kennedy; her son Rich & Kim Kennedy; 2 granddaughters: Katie (Colton) Carney, and Madie (Ben) Parrish; 6 great grandchildren: Colten, Arya, Alysse, Zoey, Ben and Calee; 2 sisters: Betty Lou "Boots" Campbell and Mary Ellen Muron.
Friends will be received on Thursday from 3pm until 7pm in the Huntsman Funeral Home and Cremation Service of Rochester.  Where a funeral service will be held on Friday at 11am.
Interment will follow in Sylvania Hills Memorial Park.