Charlotte Peck
Charlotte Peck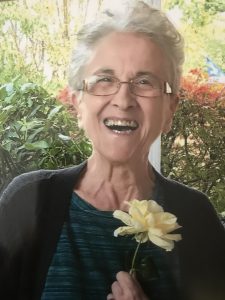 Charlotte Peck(Nana), 80 of Coraopolis, passed away on Wednesday April 25, 2018 in Allegheny General Hospital. She was born in Coraopolis on October 6, 1937 the daughter of the late Charles and Ruth Kroboth. She was a graduate of Ohio Valley Nursing School in 1958. She preceded to work at Ohio Valley Hospital as a registered nurse until her retirement in 1999. She loved cooking and baking, and enjoyed playing cards with her card club friends. Nana's true love was her family and her dog Maxi.
In addition to her parents, she was preceded in death by her sister Evelyn Kroboth.

Nana is survived by her husband of 60 years, Eugene Peck; three children: Gene (Jennifer) Peck; Evelyn "Sis" (Jim) Hawk; and Alan "Babe" (Barb) Peck; 10 Grandchildren: Dan Peck, Heather (fiancé Jason Vultaggio) Peck, Cody (fiancé Crystal Thompson) Becker, Kady (Michael) Plazek; Jordan & Zack Hawk, Natalie (Sadek) Omar, Oliver Hawk; Christopher & Alexandra Peck; three great grandchildren: Daniel "DJ" Peck, Brenna Peck & Piper Becker; and a sister Wanda (George) Kirk.

Friends will be received on Sunday from 1pm until 4pm in the Huntsman Funeral Home and Cremation Services of Moon Twp., located at: 1522 Coraopolis Heights RD., Coraopolis, PA. 15108

In lieu of flowers, contributions may be made to the American Heart Association. 444 Liberty Ave Pittsburgh, PA 15222.