Donna L. Zickefoose
Donna L. Zickefoose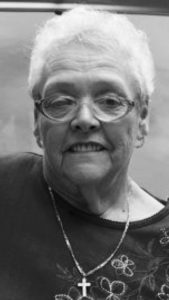 Donna L. Zickefoose, 83, of Rochester, passed away on April 22, 2018, in Heritage Valley Beaver. She was born in Rochester on February 23, 1935, a daughter of the late Charles and Mazie (Smith) Rowe.
Donna graduated from Rochester High School in 1953. She worked for many years at Rochester Hospital, Medical Center of Beaver Co. and with the Visiting Nurses Association. She was also involved with her church, the First Baptist Church, of Rochester.
She is survived by her Daughter, Barbara (Roger) Douglas; her grandson, Nathan (Holly) Douglas; granddaughter, Melissa Douglas; great-granddaughter, Tessa Douglas; her brother, Tim (Cathie) Rowe, beloved nephews, Doug (Natalie) Rowe, Mike (Kristen) Rowe and several nieces and nephews; and her sister-in-law, Helen Rowe.
She was preceded in death by her husband, Robert Zickefoose (2015); her  3 siblings, infant George Rowe; her sister, Marge Haney, and her husband George;  Charles Rowe Jr.; her nephew, Tim Rowe and her great-nephew, Charlie Rowe.
She enjoyed crafting, reading and fiercely loved her family. 'Till we meet again…
Friends will be received on Friday from 3 pm until time of service at 6 pm, in the Huntsman Funeral Home and Cremation Services, Inc. of Rochester. (502 Adams St.) Pastor Phil Huggins, will officiate.  Private interment will take place at Sylvania Hills Memorial Park.