Joanne Sostarich
Joanne Sostarich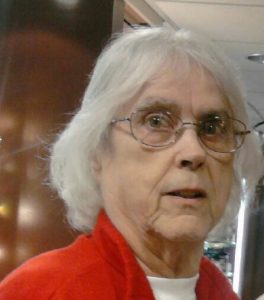 Joanne Sostarich, 81, of Hopewell Twp., passed away on February 5, 2018 with her loving family by her side. She was born in the family home on Sheffield Terrace on April 22, 1936 the daughter of the late Lloyd and Lydia Weathers.  Joanne was an adamant lover of cats, birds, and other animals, who made frequent donations to the Beaver County Humane Society. She loved sewing, country music, late night talk shows, and her morning word search.  
In addition to her parents, she was preceded in death by her loving husband of over 60 years, John 'Sonny' Sostarich, an infant brother Eugene Weathers, and two brothers-in-law: Alk Hummel and Tom Kocher
Joanne is survived by her 3 daughters: Jennifer Eaton, Jessie (Glen) Tomazich, and Julie (Mark) Oresconin; 6 grandchildren: Jamie (Bob) Grimm, James (Erica) Anderson, Jacquelyn (William) Anderson, Kevin (Emily) Eaton, Cory Eaton, and Brandon Eaton; and 5 great-grandchildren: Jimmy, Jeremy, Amber, Will, and Adriahna; 2 very special sisters: Willa Kocher and Frances Hummel; and numerous nieces and nephews. She is also survived by her beloved furry companion Smokey.
Friends will be received in Huntsman Funeral Home and Cremation Services of Aliquippa on Thursday from 3pm ~8pm. Where the funeral will be held on Friday at 11am with Fr. William Evansky conducting.
Interment will be in Woodlawn Cemetery next to her beloved husband Sonny.  
In lieu of flowers, please send donations in the honor of Joanne to the Beaver County Humane Society 3394 Brodhead Rd. Aliquippa or to Holy Ghost Orthodox Church 210 Maplewood Ave. Ambridge