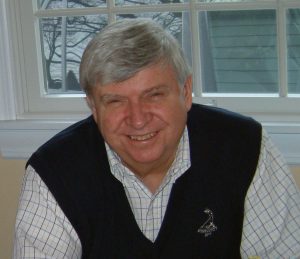 Robert R. Kirk
Robert R. Kirk
On Sunday, January 23, 2022, Robert R. Kirk, 76, passed away after a short illness. He was born in Pittsburgh on October 24, 1945, the son of the late Robert J. & Violet (Blackledge) Kirk.
Bob earned his Bachelor of Science in Chemistry from West Virginia University in 1968 and remained a lifelong Mountaineer fan. It was there that Bob met the love of his life, Judy Wallace, his soon-to-be-wife. After graduating from WVU, Bob started at Bayer Corporation in 1970 working in the lab driving a forklift and soon moved to a spot on the team of chemists. His positive and hardworking personality naturally led him into sales where he successfully held numerous positions and ultimately retired 37 years later as Vice President of Sales/Marketing in the Polyurethane Division. He and his beloved wife of 53 years were world travelers, having the good fortune to spend many of those trips with their children and grandchildren. He was a fixture at his kids' and grandkids' sporting events, recitals and celebrations and was always there with a positive comment and word of encouragement. He enjoyed a good meal, nice glass of wine, round of golf, game of duplicate bridge, and a pun or two, but mostly enjoyed spending time with family. All that knew him would say that Bob was a "good man" with a gentle soul and a kind heart, lending a positive word or a helping-hand to anyone in need.
He is survived by his wife, Judy (Wallace) Kirk. Three children: Robert I. Kirk (Mary), Upper St. Clair; Cheryl Daddi (Mark), Moon Twp.; Brenda Hall (Bobby), Moon Twp. Sister Ruth Nagy, Washington, PA. Six grandchildren, Christopher Kirk, Sydney Kirk, Cassidy Hall, Ian Kirk, Isabel Hall, and Anthony Daddi. Bob will be missed by all who knew and loved him.
In addition to his parents, Bob was preceded in death by his brother, William Kirk.
No services will be held at this time. Condolences, memories, and stories are welcomed on the website of Huntsman Funeral Home & Cremation Services of Moon Twp. (www.huntsmanfuneralhomes.com)
Bob was an animal lover, especially his beloved Granddogs; Sweetie, Cooper, Comit and Penny. In lieu of flowers, memorial contributions can be made to Animal Friends https://www.thinkingoutsidethecage.org/donate-now/ in Bob's honor.