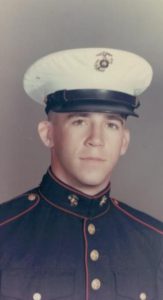 Wynn Starr, 74, formerly of Shippingport, passed away on August 13, 2021. He was born on November 13, 1946 in Rochester, PA, a son of the late Willis B. and Gertrud A. (Green) Starr.
After graduating Rochester Highschool in 1964, where he played football and was on the track team, Wynn Joined the U.S Marine Corps in June of 1964 and served two tours in Vietnam with MAG-36 Helicopters. He was a lifetime member of the Vietnam Veterans #862. After the Marines, Wynn worked for NOVA Chemical and also did his own tile work. After retirement he worked for The Parking Spot as a bus driver for 14 years.
He is survived by his wife of 41 years, Billie L. (Carpenter) Starr; a daughter, Jennifer (Rob) Henderson; a step son, Sean Ray; 5 grandchildren, Nick, Noah, Olivia Henderson, Amber (Jake Boyd) Hill, and Tyler Ray. He is also survived by his brother, Ken (Sandy) Starr; nephew, Nathan (Sara) Starr, and special cousin, Judy Timko.
He was preceded in death by his parents and a step-daughter, Niki Ray Hill.
A memorial gathering will be held on Friday August 27, 2021 from 1-3 PM, at the Rochester VFW, 179 Virginia Ave., Rochester, PA 15074.
The family would like to thank the Allegheny Health Network Hospice, Brian, Mike and Karen, for the care given to Wynn.