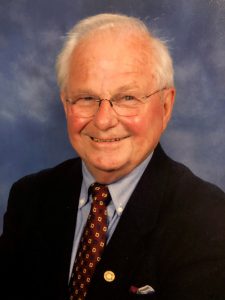 George E. Unger
George E. Unger
George E. Unger 89, of Hanover Twp. formerly of Moon Twp., passed away peacefully on Thursday, May 6, 2021 surrounded by his family and faithful canine companion, Lucy. He was born on January 8, 1932, the son of the late Fred Unger and Anna Unger Bishel. He was a US Army veteran serving in France during the Korean conflict, where he developed his love of wine. As the owner of Unger Recreational Vehicles and Unger Vending Company, he was a strong, hardworking, independent, and fun-loving man, who loved polka dancing and playing his button box. George was a dedicated member of the Moon Township chapter of Rotary International since 1965 where he had 56 years of perfect attendance, a member of the Scooter & Smart Car clubs, and also a member of the International Button Box Club. He also enjoyed collecting and restoring VW Beetles.
In addition to his parents, he was preceded in death by his beloved wife of 46 years, Ellen Stevick Unger (1997), and two brothers Robert and Fred.
George is survived by his 4 children: G. Kevin (Debbie) Unger, Joy (Scott) Berringer; Jill (Jim) Brent, and Heidi (Louis) Serventi; 7 grandchildren: Jason (Joy) Unger, Jarrod Unger, Justin Briskin, Auberly (Austin) Fisher, Garret Briskin, Ainsley (Brandon) Dillon, and J. Paul Knapp; and three great granddaughters.
Friends will be received on Wednesday from 3pm ~ 7pm in the Huntsman Funeral Home and Cremation Services of Moon Twp., where a funeral service will be held on Thursday at 11am.
Private interment will take place in the National Cemetery of the Alleghenies.
Memorial contributions may be made to the Moon Twp. Rotary PO Box 721 Moon Township, PA 15108