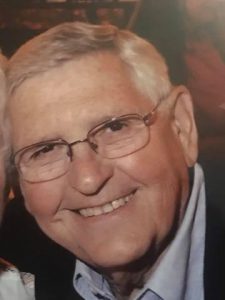 Charles William "Bill" Henderson, Jr.
Charles William "Bill" Henderson, Jr.
Charles William "Bill" Henderson, Jr., 79 of Moon Twp., passed away on Friday, January 29, 2021 peacefully at home. He was born in Latrobe, PA on May 24, 1941 the son of the late Virginia G. (McDowell) McMaster and Charles W. Henderson, Sr. Bill was an electronic technician in the U.S. Navy from 1960-1964, proudly serving as a submariner on the USS Chivo. He worked for USS Chemicals/ Aristech Chemicals at the Neville Island plant from 1974-1992. Bill moved to Aristech's Corporate Engineering in 1992, and retired in 2003 from Sunoco Inc. as a project manager. He was a member of the American Legion Post 924 in Coraopolis. Bill will be remembered for his infectious laughter, his humility, selflessness, and his devotion to family. He was a terrific dancer and loved telling stories about the family's history to anyone who would listen.

He is survived by his beloved wife Ramona; 3 children: Daniel (Barbara) Henderson, Pittsburgh, Gregg (Michelle) Henderson, Munroe Falls, OH, Cheryl (Michael) Graves, Venetia, PA; two step sons: Jonathan (Brigitte) McDonald, Grove City, PA, Chad Hanson, Pittsburgh: 9 grandchildren: Jake, Ethan, Logan, and Tanner Henderson, Joseph and Julia Graves, Zane and Lexen McDonald, and Norah Hanson; 2 brothers: Daniel (Kathy) Henderson, Enola, PA and Terry Henderson, Bolivar, PA; and his mother-in-law: Margaret Yoders.
Friends will be received on Tuesday from 2~4pm and 6pm until the time of Blessing Service at 7pm in the Huntsman Funeral Home and Cremation Services of Moon Twp.
Interment will take place on Friday at 11AM in Resurrection Cemetery.
In lieu of flowers the family requests you donate to your favorite charity.
A Celebration of Life service will be held at a later date.