Mary E. (Damron) Durrett
Mary E. (Damron) Durrett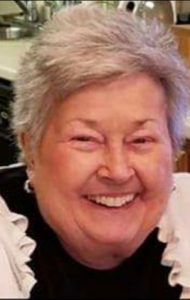 Our hearts are saddened, Mary E. (Damron) Durrett, 82, of Beaver Falls, PA (formerly of Reisterstown, MD), passed away on December 30, 2019 from complications of the RSV. She was born in Logan County, WV the loving daughter of the late Fred & Carrie Damron.
Mary was a very caring mother, aunt, sister, cousin and friend. She always greeted everyone with a warm and welcoming smile.  She loved life and was an example to all. She never spoke an unkind word about anyone.
Mary enjoyed playing fun games and chatting on the phone with both friends and family. While working at MCI, she met so many great friends. Mary had a knack of making everyone feel like family. She stayed connected to friends (both old & new) and family via "The Kindle "per our mom.
Mary is pre-deceased in death by her son Jack L. Durrett Jr.  She is survived by her children Debra Montgomery (Jeff) PA, and Dianna Bell (Sean) MD, grandchildren Bryon Montgomery, Nicholas Montgomery (Lindsey), Nathaniel Durrett, Mackenzie Bell and Topher Bell.
Family invites you to celebrate Mary's beautiful life on Saturday, January 18th at 1:30 pm in the Knights of Columbus Banquet Hall, 1010 Frederick Rd. Catonsville, MD 21228.
Forever in our hearts, our mom's final journey home to West Virginia will be held in April. More details will be announced.
In lieu of flowers, memorial contributions may be made to:  The American Heart Association (www.heart.org) or the American Lung Association (www.lung.org)