Gerald Carl "Jerry" Hagadorn
Gerald Carl "Jerry" Hagadorn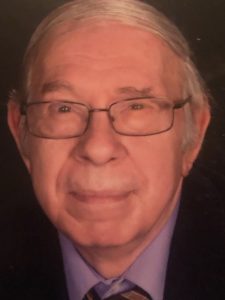 Gerald Carl "Jerry" Hagadorn,75, of Moon Twp was called Home to be with the Lord, surrounded by his loving family on Monday December 9, 2019 after receiving hospice services from Kindred Healthcare for stage 4 cancer since May 2019. He was born in Swissvale on August 30, 1944, the son of the late Carl Francis & Fannie (Luce) Hagadorn, brother of the late Beverly (Hagadorn) O'Leary Giles.
Jerry earned his Bachelor's Degree in Industrial Engineering from The Ohio State University in 1968. Upon graduation, he married the love of his life for the past 51 years, Patricia (Hendrickson) Hagadorn. He went on to serve his country in the US Army during the Vietnam War during which time he became a Marksman and was decorated with "The National Defense Service Medal", along with "The Good Conduct Medal". He was a member of the Sewickley United Methodist Church where he participated in the choir before his health declined as well as a member of the American Legion in Coraopolis.
Jerry worked for Westinghouse for many years in Robotics and specializing in assembly line automation which led him to finish his career as a subcontractor for Kawasaki Rail in NY in 2008. He is also listed in Who's Who and was known for his brilliant mind, his musical abilities, and his kindness. Those who knew him best knew him to be a man of strong faith, and a very "easy going" and humble man who deeply loved his family and His Savior.
Survived by his wife, Patricia "Patty" (Hendrickson) Hagadorn, their four children:   Cheryl Cavanaugh (Shane), Hopewell Twp.; Beth Hohman, West Mifflin; Steven Hagadorn, Moon Twp. & Jeffrey Hagadorn, Moon Twp and  nine grandchildren, Caitlyn, Alana, Matthew, Joseph & Ethan Cavanaugh and Samantha, Emma, Nicholas & Kaitlyn Hohman, along with many nieces and nephews, and in-laws. Jerry (Dad) was a wonderful, loving husband, father, grandfather, brother, uncle, and friend. During the last year of his time here, he was overjoyed to discover and to connect with his biological younger siblings, Marlene (Bob) Lott of PA and Faith Free of MI. In addition to his parents and sister, Jerry was preceded in death by his beloved son-in-law, Vinny Hohman.
A memorial service will be held on December 21 at 11AM at Sewickley United Methodist Church, followed by a "Celebration of Life" luncheon in the Simpson Room until 2PM. Interment with military honors will take place at the National Cemetery of the Alleghenies on December 18, 2019 at 12:30PM.
The Huntsman Funeral Home & Cremation Services of Moon Township will be in charge of arrangements.