James Dennis Reese Jr. MSgt (USAF, ret.)
James Dennis Reese Jr. MSgt (USAF, ret.)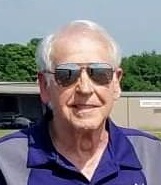 MSgt (USAF, ret.) James Dennis Reese, Jr, 83, of Moon Twp, died on November 4, 2019 in Clearwater, Florida. He was born in Reedsville, PA on November 6, 1935, the son of the late James D. and Catherine (Weakland) Reese and graduated from Derry Township High School Class of 1953.
He served 23 years and 6 months in the United States Air Force, both active duty and reserve. He worked in various positions throughout his career, as a flight simulator technician, aircraft electrician, disaster preparedness technician, and in the base motor pool. His career took him from Yokota Air Base Japan to the 911th Tactical Airlift Group, Greater Pittsburgh Airport.
In addition to his parents, he was preceded in death by his wife of 48 years, Rosemary Helen (Sabol) Reese, two brothers, Jay M. Reese and Eugene (Rip) Reese, and a grandson, Zachary M. Jones.
Surviving are his four children: Susan A. Jones (Richard), Imperial PA; Robert M. Reese, Reedsville, PA; SMSgt (USAF, ret) James D. Reese III (Betty, USAF Vet.), Spring Valley Township, OH; Catherine J. Reese (USAF, Vet.), Reedsville, PA; four sisters, Susanne McCormick, Catherine Reiss, Mary Reese, and Sally Jo King. Six grandchildren: Marianna C. Patrick, Brandon J. Jones, Jamie N. Palmiter (USAF Vet.); Robert Eric McAnally; Rebecca S. Marshall and Robbie Reese. Eleven great-grandchildren; his best friend Richard Marrone; pup Bridget, and a very dear friend Caroline Middlemiss.
A memorial gathering for family and friends will be held on Wednesday November 20th from 6-8 PM in the Huntsman Funeral Home & Cremation Services of Moon Twp. (1522 Coraopolis Hts. Rd.) Interment and Military Honors will take place at the National Cemetery of the Alleghenies, Bridgeville, PA, on Thursday November 21st at 1 PM. Those wishing to attend must be prompt.
In lieu of flowers memorial contributions can be made to: the Disabled American Veterans organization at www.DAV.org.