Jack E. Smith
Jack E. Smith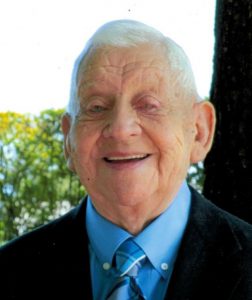 Jack E. Smith of Rochester, PA, formerly of Hopewell Twp., PA peacefully passed away Monday, April 15th, 2019 while surrounded by his family in Good Samaritan Hospice, Heritage Valley Beaver.
Born, January 23, 1925 in New Brighton, PA.  Jack was the son of Hilda and James Smith.  He was a member of the Faith Community United Methodist Church, Rochester.   The Smith family moved to Beaver Falls in 1929.  Jack started playing the piano and banjo at the age of five.   In 1930 his father put together a family minstrel act where Jack and his brother Bob preformed playing piano, saxophone, guitar and banjo, harmonizing and telling jokes.   In 1931 KDKA sponsored an amateur show at the Rialto Theater where Jack and Bob won first prize at the competition.   The prize was to open onstage at the New Oriental Theater in Rochester for "Uncle Sammy's Kiddies Klub" (the Mr. Rogers of radio) and included a week-long engagement at the Orpheum Theater in Connellsville, thus becoming a professional performer which lasted until 2014.    The peak of the Great Depression prevented the Smith boys from continuing to travel regularly into Pittsburgh to perform but they remained on the radio station's entertainment staff until 1934.  When Jack was a freshman in high school he and his brother started a new band call the High-Hatters, that played many local clubs.  The band did well until World War II.
In 1943 Jack proudly served his country for three years in the Army Air Corp during World War II serving in Europe.  When he was released, he and his brother played in several bands.   Most notably; the Jack Smith Quartet, the Vinnie Vincent Pisano Band and several others.  His bands were featured at many weddings, and they were featured players at the Holiday Inn in Beaver Falls; The Fez in Hopewell Twp.; The Elks Club in Rochester and Beaver Falls.  Jack was a regular playing organ at the Fireside Lounge.  Jack retired from music in 1983 when he moved to Downey, California.
Jack joined the Beaver Valley Musicians Union in 1940, later servicing on the board of directors in the 70's.  One of the highlights of Jack's musical career was when he was inducted into the Musician's Hall of Fame in 1999.
In 1947 Jack married Charlotte Landsbach of Beaver Falls.   They moved to Hopewell in 1951 and proceeded to raise four sons and one daughter.   Jack was proceeded in death by his brother Robert, and by his third son (Tom) in 1986 at the age of 28 and his wife, Charlotte 9 month later.
Jack returned to the valley in 1988 and married his former high school sweetheart Shirley (Coxson) Osipuk who proceed him in death in 2017.
Jack is survived by a son, Jeffrey (Jenny) Smith from Bellflower California; son, Chris (Sherry) Smith from Bryan, Texas; daughter, Lisa (Bud) Burk from Bloomington, MINN; son, Kenn (Cami) Smith from Hopewell Twp., PA; Grandkids, Carrie Smith; Tim (Austin) Smith;  Jim (Lina) Smith; Matt (Shayla) Smith, Tom Burk, Charlotte (Louie) Delatorre, Kraig, Brett and Kylee Smith  and a step daughter, Becky (John) Homich and Step grandkids, John (Nicole) Homich and Amy (Randy) McClymonds  and many great grandchildren.  Jack was also blessed to have cherished friend Natasha Alexander and her family in is life.
Jack's family would like to thank the staff at the Rochester Villa and Manor for their support and care and to the Good Samaritan Hospice for making his final days peaceful.  And, thank you to his step-daughter Becky for all of her hard work and care
Friends will be received on Thursday April 18th from 3-7PM in the Huntsman Funeral Home & Cremation Services of Rochester (502 Adams St.) Visitation will also be held on Friday from 10AM until time of Funeral Service at 11AM in the Faith Community United Methodist Church, Rochester.  The Beaver County Special Unit will perform military honors at 11:30AM.  Private interment will take place at a later date in Rose Hills Memorial Park, Whittier, CA
www.huntsmanfuneralhomes.com