Nancy (Graham) Easter
Nancy (Graham) Easter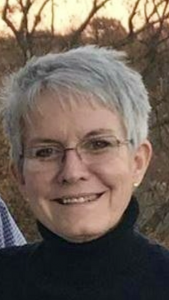 Nancy (Graham) Easter, 66, of Moon Twp. died on Wednesday September 5, 2018 in Good Samaritan Hospice at Heritage Valley Beaver. She was born in Poplar Bluff, MO on May 24, 1952 the daughter of Mildred (Seaton) Graham and the late Albert Graham. After graduating from Carthage (IL) Community High School in 1970, Nancy earned a Bachelor's degree in Nursing from South Dakota State University. She then worked as a Registered Nurse for many years in the neo-natal intensive care unit. As a flight nurse, she was also a founding member of the National Flight Nurses Association. She was an active member of St. Stephen's Church in Sewickley where she served as a lay Eucharistic minister, a member of the choir, and knitted over 150 prayer shawls for the knitting ministry. She also served meals at the Christy House and was a regular volunteer at the Center for Hope in Ambridge PA.
In addition to her husband Allyn, Nancy is survived by her mother Mildred. Two children: Graham St Denis (Cyndie), Moon Twp. and John St Denis (Missy), SC. Three Step-Children: Lois Sepahban (Amir), KY; Benjamin Easter (Christine), NV; Erin Perryman (Sean), KY. She is also survived by her two sisters, Linda Jacob (Don) & Kathy Graham (Bruce Seigfreid), both from Carthage, IL. Ten grandchildren, Avery, Kendall, Samuel, Henry, Bella, Julian, Benjamin, Kelsey, Davis & James.
Friends will be received on Monday September 10, 2018 from 2-4 & 6-8 PM in The Huntsman Funeral Home and Cremation Services of Moon Twp. (1522 Coraopolis Hts. Rd.) A funeral service will be held on Tuesday at 10:30AM in St. Stephen's Church, Sewickley. A visitation will also be held at Printy Funeral Home in Carthage IL on Thursday September 13th from 6-8 PM. Burial will take place on Friday, September 14th at 10:30 AM at The Graham Cemetery, Carthage, IL.
Memorial contributions can be made to: The Center for Hope (www.thecenterforhope.com/donations.html)