James Carey Saunders
James Carey Saunders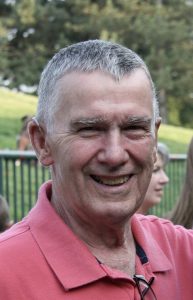 James Carey Saunders, 85, of Moon Twp., died on April 5, 2018.  He was born in Pittsburgh on March 26, 1933, the son of the late David J. & C. Alice (Sullivan) Saunders.
James served his country in the US Marine Corps during the Korean Conflict. He earned his B.S. in Mathematics from Duquesne University.  He retired from LTV Steel after 44 years, working in the Pittsburgh Works, Aliquippa, Cleveland Works, Youngstown & Warren plants.
He is survived by his wife of 62 yrs., Theresa M. (Owczarzak) Saunders.  Four Children:  Robert W. Saunders (Joanne), Fox Chapel; Marianne England (David), MI; Catherine Vignolini (Albert), Hopewell Twp.; David J. Saunders (Trisha), Pittsburgh.  Eight grandchildren:  Max, Margaret, Tess, Luc, Will, Josh, Xiao-Mei & John.
In addition to his parents, James was preceded in death by his brothers, William Saunders & John Saunders.
Friends will be received on Tuesday April 10 from 2-4 & 6-8PM in the Huntsman Funeral Home & Cremation Services of Moon Twp. (1522 Coraopolis Hts. Rd.) Mass of Christian Burial will be held on Wednesday at 10 AM in St. Margaret Mary Parish, Moon Twp.  Private interment will take place at Resurrection Cemetery, Moon Twp.
Memorial contributions can be made to: St. Jude's Children's Research Hospital (www.stjude.org)