Peter Nick Altobelli
Peter Nick Altobelli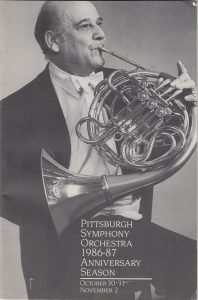 Born Pietro Natale on Christmas Day, 1921 to Carmela (DiMarco) and Lorenzo Altobelli in Marianna, PA. He crossed over on April 5, 2017 at the age of 95, at Family Hospice and Palliative Care in Mt. Lebanon, surrounded by his family.
Pete graduated from Charleroi High School. When he applied to the local coal mine where his father worked he was told, "You don't want to work here, you're too little." He enlisted in the Army and played in the band in Army War Shows across the US. When WW II escalated the band had to "lay down their instruments" and he was moved to the 28th Division Infantry in Europe. He was awarded three bronze stars for the Rhineland, Ardennes and Central Europe Campaigns. When the 28th Division Band in Europe was decimated by the enemy, the General requested auditions of infantrymen to form a new band. He joined the 28th Division Band and marched in Paris after Japan surrendered. His sentiment regarding his service was not one of patriotism and glory, but rather deepest sorrow at the "young ones" lost, whom he spoke of by name until his dying year. He grieved the extensive loss of lives, and the destruction of landscape and cultural treasures, both Allied and 'enemy'.
He was fully appreciative of and never forgot the difference the GI Bill made in his life, giving him the means to attend Carnegie Institute of Technology (now Carnegie Mellon University) and graduate with a degree in Fine Arts. He spent the majority of his career with the Pittsburgh Symphony Orchestra. He was ever amazed, and grateful, and humbled, that he was given the opportunity to perform with his French horn in all of the worlds' most beautiful and renowned venues.   Prior to his retirement he came to be known as one of the "old dogs" of the Orchestra. He loved that.
By far, the part of Pete's life which was the most important to him was his family. He lived his life for them. He was preceded in death by his wife, Yvonne Jewel (nee Schmiedeke) in 1993.   He leaves here his four treasured children; Kim Ann (the late Jarmo) Sulkava with whom he lived in Moon Township, Lawrence Keplar (Jan), Rebecca Melanie (Paul) Hoelsken and Christina Marie Altobelli. He adored and helped raise his grandchildren; Nathan Nicholas (Lindsay) Nery, Vaughan Ida-Maria Sulkava, Pietari Olavi Sulkava, Elka Jewel Hoelsken, Claire Maria Hoelsken, Christian Lewis Martine and Brian Peter (Kayla) Martine. The loss of grandson Jack (John Adam Martine III) just last year was devastating. On many occasions he told us that Jack was with him, holding his hand, as he lingered these past months. He was tickled to watch his great grandsons; Nolan Nicholas Nery and Declan Clarke Nery come into our lives.
Pete is survived by his youngest brother, Robert Altobelli (Marian), of whom he has always been so very proud. Welcoming him on the other side are his siblings; his beloved sister Mary (James) Veltri, Gilda (surviving Dom) Pesognelli, Lawrence Altobelli (Libby), and Jennie (surviving Joe) Bartina. His many nieces and nephews were always special to him.
The quiet type, Pete is a gentle and giving soul. Throughout his life he acted on the compassion he felt. He always wanted to feed everyone the minute they walked through the door. He is loved by all who have come into his life and came to be known as "Granddaddy" to young and old.
There will be no services per Pete's wishes. Interment in Monongahela Cemetery will be private with Taps played on the French horn by Jeffery A. Jaworowski, CW2(R) 28th Division US Army National Guard Band.   If desired, memorial donations may be made to The Open Door, a youth ministry of the Crafton Heights United Presbyterian Church. He raised his family in this community, and while not a church-goer, he greatly applauded the needed grassroots work the Open Door has done and continues to do for all of the children of the community. The Open Door, 50 Stratmore Avenue Pittsburgh, PA 15205 or opendoorpgh.org.
Always stay humble and kind
Arrangements entrusted to the Huntsman Funeral Home & Cremation Services of Moon Township.