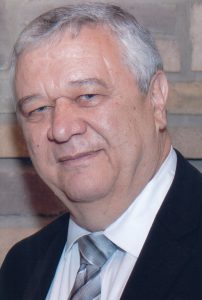 Joseph (Joe) Diggins, age 75, of Moon Twp., returned to his Lord and Savior on January 17, 2021. His cause of death will officially be recorded as Covid but those who know him well know that a broken heart was the true cause. Joe longed to be reunited with his wife, Joanna, of 100 years (as Joe would tell anyone, "50 years for her and 50 for me").
Joe was a loving, caring grandfather who always cherished his time with his 13 grandchildren. He particularly enjoyed organizing elaborate water balloon battles in his backyard every summer as well as passing on his love for wood working or jewelry making by planning projects for them. He was the father of 6 children as he would say, "three by birth and three through marriage." Embarrassingly, he would brag even to complete strangers how proud he was of them. Most significantly, he was a devoted husband who cherished completely his Joanna. Always holding the door for her, coming up with elaborate gifts, never leaving her side and making her laugh were only a fraction of what he did for her during their marriage.
Joe was born in Philadelphia, on July 5, 1945, the son of the late Joseph and Ann (Schmidt) Diggins. Joe is survived by three children, Joseph Diggins (Hope), Sewickley; Brian Diggins (Amy), Moon Twp.; Tricia Flagg (Jon), Wexford; thirteen grandchildren, Reilly, Pierce, Alexandra, Tyler, Ethan, Reagan, Lucie, Avery, Cameron, Jiovanni, Xzavion, AJ, and Ah'mir; three brothers David Diggins, Paul Diggins, and Kevin Diggins; and two sisters Joanne Palmer and Geri Morrison.
A private ceremony for family and close friends will be held in the HUNTSMAN FUNERAL HOME & CREMATION SERVICES, of Moon Twp., (1522 Coraopolis Hts. Rd.). Private interment will take place at Sewickley Cemetery. In lieu of flowers, memorial contributions can be made to: The People Helper's Ministry of St. Stephen's Church (405 Fredrick Ave. Sewickley, PA 15143).