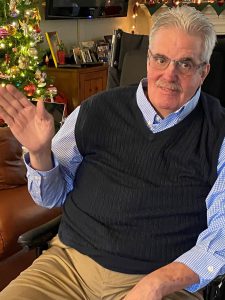 Robert A. (Bob) Karwoski, 67, of Franklin Park, passed away at home on Friday, April 3, 2020 after a lengthy battle. A fighter, with a "never give up" attitude, Bob was a victim of complications from a brain hemorrhage he suffered 10 years ago. To the very end, he was an inspiration to everyone around him.  Bob was the beloved husband of Beverly Rees Karwoski; loving brother of James (Marta) and Thomas (Debra) Karwoski, both of Brighton Twp.
Born on June 11, 1952, Bob was a graduate of Freedom High School and Mansfield University.  He was a devoted law enforcement officer for more than 40 years, starting as a part-time 911 dispatcher in Beaver County, a part-time patrolman for Freedom, and a Beaver County Narcotics Detective.  He finished his career as the Special Agent in Charge for the Norfolk-Southern Police Department.  Bob was a member of St. Alexis Catholic Church in Wexford and many national and local professional organizations including the Fraternal Order of Police, International Police Chiefs, Western Pennsylvania Chiefs of Police, and many others.
Bob was unique and bigger than life.  He could fill a room with his personality and wicked sense of humor.  He had a big heart and was always helping family, neighbors and friends, His motto was to always cause chaos and commotion.  He was a master of it and he loved sharing the intricacies of that with his coworkers, friends and family.  He loved sports, especially Pitt football and basketball and the Steelers.  He went to the YMCA religiously and enjoyed working out.  He came alive at the beach and was so proud of his house in Myrtle Beach, SC. He would often be the first person on the beach and the last one to leave. More than anything "Big Cat" loved his Harley and would take off on long rides with his Riding Friends on a moment's notice.  There was never a dull moment with Bob.
Bob was preceded in death by his parents Edward and Raphael Karwoski of Freedom and many aunts and uncles.  Bob has a very large family.  In addition to his wife, brothers and sisters-in-law, he is survived by two nephews JT Karwoski (Tracy) of Hopewell and Jeff Karwoski of Beaver; two nieces Dina Karwoski of Tampa, FL and Jill (Lon) Valentine of New Brighton; godson Nicholas Yanyanin of Pittsburgh; goddaughter Annisce Ramanna of Hopewell; two great nephews Brendan and Brady Valentine and a great niece Maisie Karwoski;  special cousins Nancy (Mitch) Yanyanin of Baden; Anthony (Brandi)  Budris of Hopewell; Kristen Budris of Pittsburgh; good friends Robert (Deb) Ramanna of Hopewell; Mike (Liz) Magill of McCandless, Herman "Red" (Donna) Powell of Beaver and many, many other cousins and close friends.
The family would like to especially thank "Bob's Angels" Kim Neill, Linsey Dengler,  Anthony and Kristen Parker, Diane Brodmerkel, Lacey Hoffman, Danielle Turk, and Jola Meinert. Their love, care and support has been exceptional and very much appreciated.  Bob truly loved them and appreciated everything they did to help him. Also, thank you to the doctors and nurses associated with Allegheny General Hospital for the excellent care, kindness and guidance over the years. A special thank you to the doctors, nurses, aids and therapists at Encompass Health in Harmarville and Sewickley and St. John's in Mars for their hard work and dedication to Bob.  A very special thank you to John (Jack) and Diane Anke for being their when we needed them so much.
Arrangements are being handled by Huntsman Funeral Home and Cremation Services of Rochester, 502 Adams Street, Rochester, PA.  Due to the current restrictions on gatherings, there will be no visitation.  A mass of Christian Burial and celebration of Bob's life will take place at a later date.