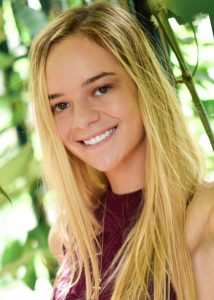 Haley Alexandra Weiss
Haley Alexandra Weiss
Haley Alexandra Weiss, 19, of Moon Twp., passed away on Thursday, October 7, 2021 in Children's Hospital of Pittsburgh. She was born in Pittsburgh, PA on April 25, 2002 a daughter of Douglas and Claire (Sullivan) Weiss. She was a student at CCAC studying to become a Radiology Technician. She was a 2020 graduate of Moon Area High School where she was voted with having the Most School Spirit, her senior year. Haley loved to paint, draw, build puzzles, and listen to classic rock. She was a very active person, participating in cheer leading, gymnastics, and Rugby. She also enjoyed watching Steeler games, Grey's Anatomy, Family Guy and Sponge Bob Square Pants. She was a member of the Most Sacred Heart of Jesus Parish, attending St. Margaret Mary Church.
She is survived by her beloved parents: Doug and Claire Weiss, Moon Twp.; a brother: Lucas Weiss, a sister: Carly Weiss; her paternal grandmother: Eleanor Weiss; 9 aunts and uncles: Susan (Brent) Mulgrew, David (Jill Lawhorn) Weiss, Bill (Lora) Weiss, Robert Sullivan, and Sean (Jeanette) Sullivan: 8 cousins: Brent, Morgan, Erika, Nicole, Alex, Carlin, Sean, and Christina.
She was preceded in death by her paternal grandfather: Arthur Weiss, and maternal grandparents: Robert and Claire Sullivan.
Friends will be received on Monday from 1~7pm in the Huntsman Funeral Home and Cremation Services of Moon Twp. 1522 Coraopolis Heights Rd. A Mass of Christian Burial will be held on Tuesday at 11am in St. Margaret Mary Church, Moon Twp.
Interment will follow in Resurrection Cemetery.
Memorial contributions may be made to The Michael Trella Foundation at www.iloveyoumorefoundation.org the Neuro-Oncology Department at Children's Hospital of Pittsburgh: In Memory of Haley Alexandra Weiss in the memo line and mail to Children's Hospital of Pittsburgh Foundation c/o PNC Bank PO Box 535240 Pittsburgh PA, 15253-9926 or to St. Jude Hospitals at www.stjude.org