Robert J. Heisler Sr.
Robert J. Heisler Sr.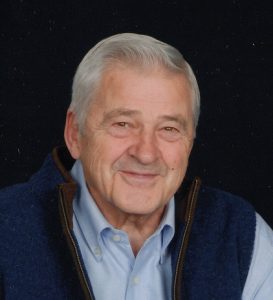 Robert J. Heisler, Sr., 85, of Moon Township, PA, died on Thursday July 4, 2019 in Sewickley Valley Hospital, Sewickley, PA.  Robert was preceded in death by his true love of 60 years, best friend, and loving wife LaVerne W. Heisler. He was born in Pittsburgh, PA on Dec 5, 1933 the son to the late Joseph and Rose Heisler.
He is survived by his two sons, Robert J. Heisler, Jr. (Lisa), Moon Township, PA & Bruce J. Heisler (Kimberly), Moon Township, PA. He was a devoted "Pap" to his three grandchildren, Shelby Heisler Jarosh (Matt), Annie L. Heisler & Cooper B. Heisler. His surviving siblings are his Rosie Dapper (Richard), and his brother Richard Heisler (Marie).
In addition to his parents and wife, Robert was preceded in death by his brothers, Bernie, Chuck and Joe Heisler.
He had a wonderful life and brought goodness to everyone he came in contact with. One word that is often used to describe him was "sweet." After LaVerne passed, he could always be found at Eat n Park or The Landing Community Center in Moon Township. He made his daily rounds and often visited Rite Aid, Key Bank and Dr. Ruberg's office checking in on all his "family" that took care of him outside of his own. He was also blessed by LaVerne's girlfriends that continued to take care of him after her passing.
He lettered in multiple sports at Carrick High School before he joined the Army and served both active and reserve duties.  After that he joined the rest of the Heisler boys at Armour Food Service where he worked for over 30 plus years. He loved sports, playing the lottery and his family. Very rarely did he venture out of Moon/Coraopolis. He had everything right where he wanted and was very content.
He was a member of St Joseph Church, but had a special relationship with the Felician Sisters Convent in Coraopolis.   He also regularly attended Impact Christian Church where he developed many new friendships.
Bob was well loved by his family and all of his friends.   He is now where he wanted to be …… with the Love of his Life, LaVerne.
Friends will be received on Monday July 8 from 3-8PM in The Huntsman Funeral Home & Cremation Services of Moon Twp. (1522 Coraopolis Hts. Rd.) Also on Tuesday there will be a funeral Mass at 10:30AM at Our Lady of Sacred Heart Church, 1500 Woodcrest Ave, Coraopolis, PA.
In lieu of flowers, memorial contributions can be made to: Felician Sisters Convent 1500 Woodcrest Ave., Coraopolis, PA 15108.