Grace Schleiger
Grace Schleiger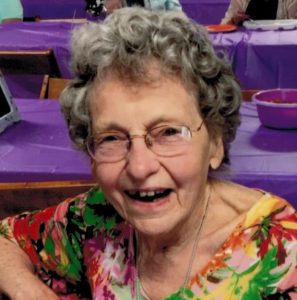 Grace Caroline Schleiger (nee Brightwell) has gone to her heavenly home at the age of 91. Born in Rochester on July 3, 1927, she was the daughter of Sarah Weber Brightwell and William Brightwell. She is survived by two daughters, Cathy Sheets (Cris), Brighton Twp., and Daphne Syrek, Economy Borough, and one son, Thomas Campbell, Orange City, Fl. A daughter, Cynthia Walker, preceded in her in death. Also surviving are her six grandchildren and nine great grandchildren, as well as many loving nieces and nephews, including two special nieces, Judy Dawson of Ohioville and Mary Gallentine (Ernie) of Virginia Beach.
She had many wonderful aides who lovingly cared for her, including longtime aide, Tina Cleckley and her close aide Loretta Ricci- Schaffer. In addition to her daughter, she was predeceased by a sister, Frances Gallentine, and four brothers, John, William, Albert and Arthur Brightwell.
Grace worked many jobs including Rosalind Candy Castle. Her compassionate nature was evidenced by caring for patients as a sitter at the Medical Center, Beaver. She had a love for numbers and worked as a bookkeeper for Al's Radiator and Brighton Construction. Grace was a gifted poet. She enjoyed her friends and pastors at Central United Methodist Church, Beaver Falls. Grace also had a huge heart for the many stray cats that she cared for and rescued over the years with her close friend Joanie Fields.
The family is grateful to the staff at Heritage Valley Medical Center, especially the nurses and aides on the 3rd floor, and also to the compassionate team at Rochester Manor for their loving care during Grace's stays throughout the years. The family particularly acknowledges and appreciates the dedication of her devoted doctor, Grace Tarabay.
Family and friends are invited to celebrate her life at a special memorial service on Saturday, March 23rd at 2 PM at Central United Methodist Church, 1227 6th Ave. Beaver Falls, with a luncheon to follow.
Donations in Graces's memory may be made to the beaver County Humane Society, 3394 Broadhead Rd., Aliquippa, PA 15001 and directed toward their TNR program for cats.