Darrell Gilbert Jones Sr.
Darrell Gilbert Jones Sr.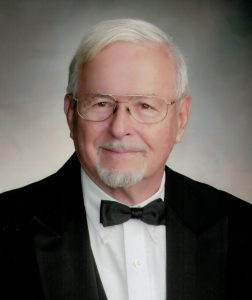 Darrell Gilbert Jones Sr., 83, of Raccoon Twp., passed away on Wednesday February 7, 2018 in Good Samaritan Hospice at Heritage Valley Beaver.  He was born in Aliquippa on June 25, 1934 the son of the late William and Sarah (King)  Jones.
Darrell graduated from Aliquippa High School in 1955. He worked in the Maintenance Department with (LTV) J&L Steel retiring in 1996.  He was a member of Mt. Pleasant Presbyterian Church (E.P.C) Raccoon Twp. He was a member of the Glasgow #485 F&A Masons, Shippingport and the Woodlawn Chapter #164 Order of the Eastern Star; a Life Member of Raccoon VFD #35; and a member of the NRA.
He was preceded in death by his first wife Ruth (Lantz) Jones, a brother, William A. Jones. Jr.
He is survived by his wife Carol; a son Darrell (Kimberly) Jones Jr.; 3 daughters: Penny Vula, Ohioville, Suzanne (Theodore) Ellis, Virginia Beach, VA; and Christine Proudfoot, Industry; a step-son, Paul D. (Holli) Shan, Leesburg, VA, and a step-daughter Joanna E. Blaha, Painesville, OH.  He is also survived by many grandchildren and great grandchildren; a brother Richard Jones, Baden; a sister and brother-in-law Sandra (Joseph) Daniels; many nieces, nephews, great nieces and great nephews.
Friends will be received on Sunday from noon until 5pm in the Huntsman Funeral Home and Cremation Services of Aliquippa. Where a funeral service will be held on Monday at 11am, conducted by his minister, Rev. Richard Herbster.
Memorial contributions may be made to the Masonic Children's Charity, Masonic Village Sewickley, 1000 Masonic Drive. Sewickley, PA 15143.
A Masonic funeral service will be held on Sunday at 4:30pm immediately followed by an Order of the Eastern Star service.