Jean Jackson (Marshall) Rohm
Jean Jackson (Marshall) Rohm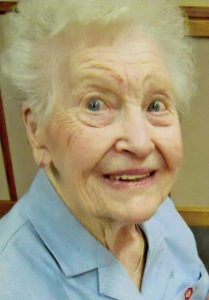 Jean Jackson (Marshall) Rohm, 102, of Hopewell Twp., passed away on January 9, 2018 in her home.  She was born in Motherwell, Scotland on February 25, 1915 the daughter of the late James and Margaret Marshall.  She loved her family and gardening and sewing.  She brought joy to all she met and achieved everything she tried.  She was a member of New Bethlehem Presbyterian Church.
In addition to her parents, she was preceded in death by her husband Lester Rohm; 5 siblings: James, Andrew and William Marshall, Agnes Wilson and Catherine Eichorn.
She is survived by her loving daughter: Linda Wilson, Hopewell; a brother: Robert Marshall, and two sisters: Margaret Leipley & Helen Dilling, and a special friend Tracy King.
There will be no viewing.  A memorial service will be held on Thursday, January 18, 2018 at 11:00 am in the Huntsman Funeral Home and Cremation Services of Aliquippa.
Private inurnment will take place in Sylvania Hills Memorial Park.
In lieu of flowers, memorial contributions may be made to Mother Teresa Hospice 3950 Brodhead Rd. Suite 310 Monaca. PA 15061
The family would like to give a special thank you to her caretakers, Bridget, Rose, Andrew and Sister Mary Catherine for their wonderful care.