Virginia "Sue" Sharps
Virginia "Sue" Sharps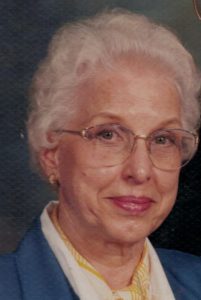 Virginia "Sue" Sharps, 89, of Chippewa, formerly of Moon Twp., went to be with her Lord and Savior on Sunday January 7, 2018 in Franciscan Manor.  She was born on December 17, 1928 the daughter of the late Ernest and Delilah Sliker.  She was a very talented artist, selling at many of the local art festivals.  She loved cooking and taking care of her family.  She was also a member at Steffin Hill Presbyterian Church in Beaver Falls.
In addition to her parents, she was preceded in death by her husband, Dr. Robert Sharps; a daughter Debbie Linnabary; a son Dan Sharps,  and a sister Evelyn Phillis.
She is survived by three grandchildren Jodi (Melissa) Linnabary, Drew Linnabary, and Carly Ann Dunmire; 2 great grandchildren: Roselyn & Charlotte Linnabary; 4 nephews: Kevin (Debbie) Phillis, David (Nancy) Phillis, Randy (Lisa) Phillis and Jeff Phillis; and a very special niece Connie Oshop.
And a special thanks to the Franciscan Manor, and Sharon from Home Health Aid, for their love and special care.
Friends will be received on Friday  from 5~7pm in the Huntsman Funeral Home and Cremation Service of Aliquippa as well as Saturday from 10am until the time of funeral service at 11am. Services will be conducted by Pastors Jeff Phillis of Oak Grove Church of Christ and James Salyers of Steffin Hill Presbyterian Church.
Private interment will take place in Seceder Cemetery, Darlington.