Stanley J. Sieracki
Stanley J. Sieracki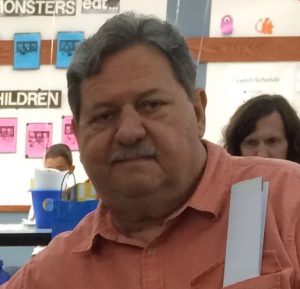 Stanley J. Sieracki, 71, of Moon Twp. died peacefully on January 7, 2018. He was born in Washington, PA on September 4, 1946 the son of the late John and Jennie (Kurdy) Sieracki. Stanley was a graduate of Trinity High School and loved following local sports. An avid fisherman and DIY'er, he was constantly trying new hobbies after retiring from the river barge industry—at the time of his passing, he was learning to play the ukulele; previously he grew tomatoes and built furniture for his grandchildren. He enjoyed cooking elaborate meals from America's Test Kitchen recipes, and bicycling in Presque Isle. A prolific storyteller, he was known for his epic drives around Pittsburgh, only doing the crossword in pen, and insisting every fall the Steelers would go 8 and 8.
Stanley is survived by his wife, Janet (Bova) Sieracki; two children, Jill Bukowski (Michael), NJ, and Adam Sieracki (Brandi), Moon Twp.; three grandchildren, Mason and Madelynn Sieracki, and Ryan Bukowski; and a sister, Lois Navrotski.
Friends will be received on Wednesday January 10 from 2-4 & 6-8PM in the Huntsman Funeral Home of Moon Twp. (1522 Coraopolis Hts. Rd.) where a funeral service will be held on Thursday at 12 Noon. Interment will follow at the National Cemetery of the Alleghenies, Bridgeville.