Mildred H. "Midge" Skelton
Mildred H. "Midge" Skelton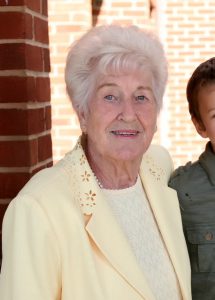 Mildred H. "Midge" Skelton, 92, of Hopewell Twp., died in her home on Sunday September 24, 2017. She was born in Corbin , KY on April 24, 1925 the daughter of the late G.F. & Mable Hausman.
Midge was a member of the First Baptist Church, Woodlawn. Was an avid bingo player and a member of the 50 + group at St. Francis Cabrini.
In addition to her parents, she was preceded in death by her first husband, Wilbur D. Elliott, second husband, Dewey Skelton. A son Edward D. Elliott, a step daughter, Janet Skelton and five siblings.
Midge is survived by her two daughters, Donna Elliott LoFaso, FL; Diana Elliott Lasota (Bob), Hopewell Twp. A step son, Kenneth Skelton (Rita), FL. Seven grandchildren, Sam J. LoFaso Jr. (Joelle), Shelby Espenschied, Robert Lasota Jr., Jamey Mazzie (Steve), Richard Lasota, Ryann Cindrich (Ron), Curtis Skelton (Jennifer). Thirteen great grandchildren, Megan, Sammy, Tyler, Josh, Colton, John Joseph, Michael, Taylor, Olivia, Maci, Stella, Andrew & Carson. A brother, Roger Hausman. Sisters-in-law, Carol Lewis (Bob) & Virginia Skelton. And Many nieces & nephews.
Friends will be recieved on wednesday September 27 from 4-7PM in the Huntsman Funeral Home of Aliquippa (2345 Mill St.) where a funeral service will be held on Thursday at 11 AM. Interment will follow at Woodlawn Memorial Park.
The family would like to thank the staff at Gallagher Health & Hospice for their care, and Midge's dear friend Danielle for her support.
Memorial contributions can be made to: the First Baptist Church, Woodlawn.