Nellie Pander
Nellie Pander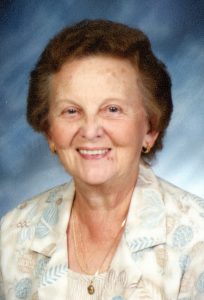 Nellie Pander, 91, of New Sewickley Twp., passed away on September 19, 2017, in her home. She was born in Conway, on June 21, 1926, a daughter of the late John and Josephine Keller.
She is survived by her husband of 61 years, John Pander. In addition to her husband, she is survived by her children, Linda (Andy) Oshop, Diana (Ron) Neal, both of New Sewickley Twp., and a son, John (Brenda) Pander, Jr., of North Carolina.
She is also survived by her grandchildren, Brian (Alison) Oshop, of West Chester, PA, Dr. Gretchen (David) Meyers, Cranberry twp., Ryan (Emily) Neal, of Erie, Johnny Pander of North Carolina; her great grandchildren, Audrey, Peter and Kyra Oshop, Luke and Olivia Meyers, Griffin Potts and Baylon Neal; her brother, Ronald Keller, of Conway, and Sister in Law, Twyla Keller, of Conway, and several other nieces and nephews.
She was preceded in death by her sister and brother in law, Helen and Peter Vurdelja; her brother and sister in law, Judy and Edward Keller; and a brother, John Keller.
She held close to her heart her family and her Polish Heritage. She enjoyed cooking her favorite polish dishes, pierogis, pigs in a blanket, and nut rolls. She also loved listening and dancing to her Polish music.
Friends will be received on Saturday, at 9am, until time of Mass of Christian Burial at 10 AM, in Our Lady of Peace Catholic Church, Conway. Services conducted by Fr. James Kurtz.  Interment will be private, at Calvary Cemetery.
In lieu of flowers, contributions can be made to a charity of your choice.
Special thanks to Dr. Jackson and Kindred Hospice care nurses, Katie and Melissa for their love and care.