Ruth L. Myers
Ruth L. Myers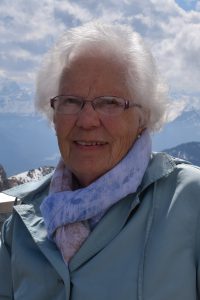 Ruth L. Myers, 83, of Crescent Twp. (formerly of North Versailles, PA and Maitland, FL), passed away peacefully on August 27th, 2017.
She was born in Turtle Creek, PA on July 23, 1934 the daughter of the late Richard R. & Helen (Ament) Saul.
In addition to her parents, she was preceded in death by her husband Joe, sons Joseph and Patrick, siblings Virginia, Richard, and Robert and her parents-in-law Joseph and Velma Myers.
Ruth's passions included spending time with her family, visiting the library, volunteering at the West Hills Food Pantry, attending mass at St. Margaret Mary weekly with her family, all genres of music, and completing those challenging New York Times daily crossword puzzles.  She had an amazing ability to quote well-loved poetry and the words to her favorite hymns.
Ruth is survived by her children: Janice (Ron) Purnell, Tampa FL and Steve (Becky) Myers, Moon Twp.  Six grandchildren: Jacqueline & Joseph (Yui) Detwiler, Sean, Brendan, & Julia Myers, and Raymond Myers.  She is also survived by her loving brother John Saul (Canby, OR) and her dear friend and sister-in-law Lauretta Saul (Sarasota, FL), as well as many loving nieces & nephews.
The family would like to extend a heartfelt thank you to all of her extended Ohio family, caring friends and neighbors who visited her daily and sent countless well wishes and her caregivers who provided comfort in her final days.
A Mass of Christian Burial will be held on Saturday September 23rd at 9:30 AM in St. Margaret Mary Catholic Church, Moon Twp. A private celebration of Ruth's life will be held following the mass.  Interment will be private at Good Shepherd Cemetery, Monroeville.  The Huntsman Funeral Home & Cremation Services of Moon Twp. is in charge of arrangements.
The family suggests memorial donations be sent to West Hills Food Pantry in Ruth's honor, 522 Carnot Rd, Moon Twp, PA 15108.  If desired, flowers will be received at St Margaret Mary Church, 1 Parish Place, Moon Twp, PA 15108 the day of service.