Shirley (Cipriano) Colarossi
Shirley (Cipriano) Colarossi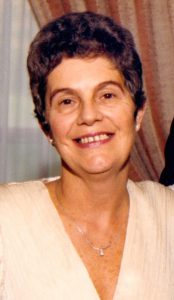 Shirley (Cipriano) Colarossi, 82, of Moon Twp. passed in her home on June 26, 2017​surrounded by all of her children and grandchildren. ​She was born in New Philadelphia, OH on December 27, 1934 the daughter of the late Louis and​ Mary (Fragasse) Cipriano.
After High school she went to McConnell Airline School in Minneapolis, MN and worked as a flight attendant for Capitol Airlines (United) before meeting her husband, Leo.​
In addition to her parents she was preceded in death by her husband, Leo Colarossi in 2008, ​​a ​son, Baby Boy Colarossi, a brother, John Orlando, ​and sisters Joanne Cipriano ​and​ Helen Orlando.
Shirley is survived by her three children: Lisa Aletto (Mark), Moon Twp.; Linda Pace, Chicago, IL; Dr. Leo J. Colarossi (Monica), Moon Twp. and eight grandchildren: Marco, Alex, Angelo, Carly, Jessie, Cassandra, Natalie & Dominic.
F​amily and friends will be received on Thursday, June 29th from 2-4 & 6-8 PM in​
the Huntsman Funeral Home & Cremation Services of Moon Twp. (1522 Coraopolis Hts. Rd.) ​A Mass of Christian Burial will take place on Friday at 9:30 AM at St. Joseph Catholic Church in Coraopolis.​ (Everyone please meet at church.) Private interment will follow at Resurrection Catholic Cemetery, Moon Twp.