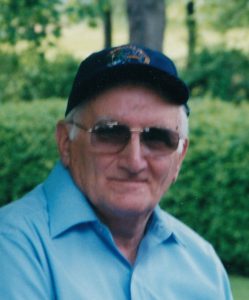 Pete Deluca, 91, of Hopewell Twp. died on May 19, 2017 in his home. He was born in Jacobs Creek, PA on October 21, 1925 the son of the late William & Sue (Banks) Deluca.
He served his country in the US Army during WWII.
He is survived by his wife of 68 years, Dorothy (Gordon) Deluca. Three children: Martha Joyce Carpenter, SC; Beverly Weber, Moon Twp.; Pete William Deluca, Hopewell Twp. Siblings, Rose Deluca, Paul Deluca & Mary Dolan. Grandsons, Joe & Pete Weber and 4 other grandchildren. Numerous great and great-great grandchildren, and his best friend Lou Cellitti.
In addition to his parents, Pete was preceded in death by sons, Galen Pete Deluca & Robert Paul Deluca. A son-in-law, Joe Weber and eleven siblings.
Friends will be received on Monday May 22 from 2-4 & 6-8 PM in the Huntsman Funeral Home & Cremation Services of Aliquippa (2345 Mill St.) Where a funeral service will be held on Tuesday at 10 AM. Interment will follow at Hopewell Hebron Cemetery, Clinton. The Beaver Co. Special Unit will perform military Honors.