Clyde H. "Red" Nale
Clyde H. "Red" Nale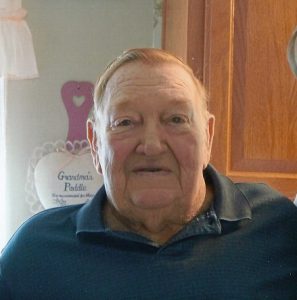 Clyde H. "Red" Nale, 85, of Tylersburg, Formerly of Hopewell Twp. died on April 28, 2017 in his home. He was born in Clarksburg, WV on September 5, 1931 the son of the late Clyde & Ruby (Hickman) Nale.
He served his country in the US Army during the Korean Conflict, retired from J & L/LTV Steel after 30 years of service, and was an owner/operator truck driver for many years finally retiring with JED Service.
He is survived by three children: Larry Nale, Hopewell, Randy Nale (Nancy), TN and Amy Thomas-Rice (George), Hopewell. Five grandchildren: Travis, Lucas & Amanda Thomas, Meredith Nale, & David Robertson. Siblings: Elizabeth Urick, GA; Ella Mae Spieker, Hopewell; Dorothy Gobert, FL; Edna Petrella, Hopewell; Martha Lackovich, Hopewell; Nancy Conners, Hopewell; Bill Nale (Alice), Indiana; Helen Antoline, Monaca; Jim Nale (Sharon), TN. Sister-in-laws: Marty Nale, Hopewell; Joan Stratton, Chippewa; Laura Stratton, Lansdale. Numerous nieces and nephews, several close friends, and his "little angels", Maddy & Matt Gatesman, who brought much joy to his life.
In addition to his parents Clyde was preceded in death by his wife, Elizabeth L. "Betty Lou" (Stratton) Nale in 2008, a brother, Tom "Sonny" Nale, a son-in-law, Jeffery Thomas, & all his brother-in-laws.
Friends will be received on Tuesday May 2, 2017 from 2-8 PM in the Huntsman Funeral Home & Cremation Services of Aliquippa (2345 Mill St.) where a funeral service will take place on Wednesday at 11 AM. Private interment will be in Woodlawn Cemetery, Aliquippa.
In lieu of flowers, donations can be made to the American Cancer Society or the American Heart Association.